"Industry 4.0 Needs Intelligent Cable"
Mr. Messerer, can you escape from the hype around buzzwords such as Industry 4.0 and the Internet of Things?
MESSERER: No, and I would not want to. Industry 4.0 is a clever move by the world's industrial sector, because what lies behind it is how we, in high-wage countries, survive long term in an increasingly competitive environment. We all seek to automate cleverly, optimise our processes in order to deliver the best quality products. We are right at the forefront of improvement: with ever-increasing speeds, minimal non-productive times and fault-free output, horizontally and vertically interconnected production structures, goods and tools with their own memory, human-machine communication and direct interaction between machines – a fascinating new world is opening up.
Is Industry 4.0 then actually bringing the predicted revolution in some places?
MESSERER: I think the big word "revolution" is an exaggeration. If we keep our feet on the ground, a change is taking place, which will permanently alter production. However, there is nothing revolutionary happening to us; rather, we are exploiting opportunities that are made possible only by the technologies available today. The Internet of Things will definitely come though.
How can the development of the cable industry be secured?
MESSERER: Let me cover that in three phases. Over three decades ago, we had low-capacitance control cables, which needed one cable for each function, i.e. if you were addressing 20 sensors, you needed a 20-pair cable. For a good 25 years, BUS systems have been the norm – one cable can address mulitple components and therefore, space was saved. Now, with Industry 4.0, Fieldbus is reaching its limits.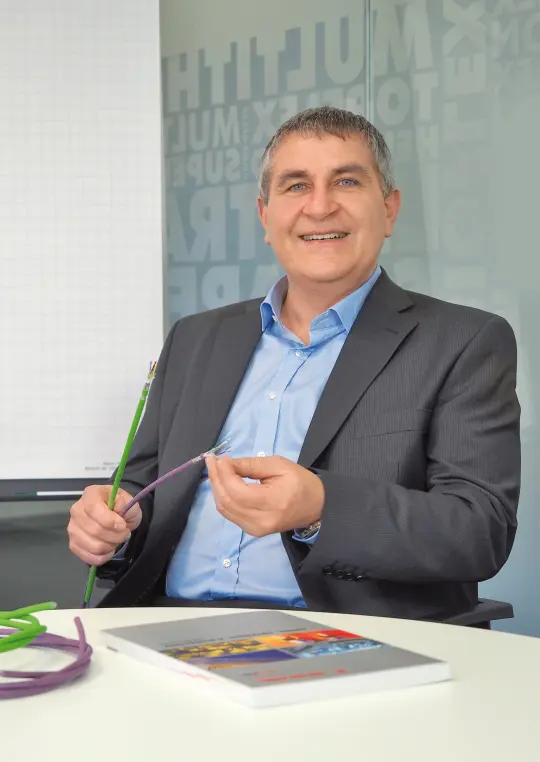 (© HELUKABEL)
Has Fieldbus therefore come to an end?
MESSERER: Not at all, it is merely being shown its limits. in the BUS world, we talk about data rates in the range of 1 to 20 Mbit and – at best – response times of 20 ms. However, real-time communication needs a more reactive medium with response times under 100 μs and data rates in the range of 100 Mbit and greater.
What is the answer to these high demands?
MESSERER: It is based on the cable technology of Industrial Ethernet – Profinet, Ethernet/IP, EtherCAT, Powerlink or SERCOS – protocols already long-established in it finding their way into the factory. Unfortunately, as in the Fieldbus war of the 1980s, no standard has yet emerged. almost a dozen solutions are currently competing to be the industry standard.
And currently superseding Fieldbus?
MESSERER: In some cases, yes, but not necessarily. Whenever a fast speed is needed, Industrial Ethernet has the advantage with its performance data. In a refinery with long-lasting processes though, who needs real-time communication with millisecond accuracy? In many cases, Fieldbus still has a future and various BUS systems still have further growth to achieve. Industrial Ethernet is also not completely new. If we look at market trends then we see that a damper was put on Fieldbus applications and Industrial Ethernet grew disproportionately in 2014, so we reached a turning point only in the past year.
This has consequences for a cable manufacturer though...
MESSERER: Indeed. At HELUKABEL, we need the right cable for every protocol. Unfortunately, from the perspective of the user, cables are a C-part. However, in terms of function, they are an A-part when it comes to automation technology. this can be demonstrated well with examples.
Which examples?
MESSERER: Ethernet hybrid cables such as the HMCB500S presented in this magazine, which transport power and data in two separate cores, are an excellent example. This core configuration places the highest demands on shielding, electromechanical compatibility and manufacturing. Ultimately, the data flow must never be interrupted. We are therefore talking about ever-increasing demands with such focus areas such as structural return loss as a quality attribute, and the relationship of cable attenuation to crosstalk attenuation depending on frequency. Cable manufacturers work in the area of high-frequency technology, which is a challenge for production, in particular, because our products must be consistently precise and fine-tuned. The second example is cable systems for the new digital encoder systems using the HIPERFACE DSL® interface. Previously, servomotors and inverters have been connected with one cable for power transmission and one for the transmission of position information. The new encoder systems allow single-cable solutions to be used. Our TOPSERV® hybrid servo cables in PUR versions for highly dynamic drag chain applications and PVC for applications with partial drag chain capability are designed for this.
What is the specific challenge?
MESSERER: Since the pair for data transmission is integrated into the servo cable, the durability of the data shield is particularly important. Tests on new cables have only limited significance, as the quality of the cable diminishes over time after continuous use in a drag chain. We have therefore focused on the quality and service life of the copper shield that protects the data pair against interference from the power cores.
How does HELUKABEL ensure long-term durability?
MESSERER: We have our testing facility at our manufacturing plant in Windsbach for this. Stress loading takes place in the test centre with drag chain and torsion testing equipment. For example, we put hybrid cables to the test here in a highly dynamic drag chain test with over 5 million cycles. As the strain on cables is dependent on parameters such as distance, bending radius, speed and acceleration, we need this data from the customer. The more precise the details are, the more detailed our designs can be for each cable. However, this cannot be calculated and must be determined empirically. Even though we have extensive empirical values in a database, the test is always needed since practical application the ultimate confirmation of the cable's durability.
Is there a supreme discipline for you?
MESSERER: Whenever we talk about automation, we are talking about robotics and drag chains. On top of the electrical requirements, topics such as abrasion resistance, bending capacity, media resistance (i.e. chemicals, fluids, lubricants, etc.) and torsional stability quickly arise. In addition, greater intelligence in the cable is also certain to come up. The cable becomes the backbone of Industry 4.0, since nothing happens at all without the close-knit network between the countless components in an automated factory.
About Horst Messerer
Cable expert Horst Messerer, 46, has been at HELUKABEL since december 2014, but he has over 28 years of experience in the cable industry. Messerer: "Cables are my life, even more than motorbikes, which i tinker with more than i ride." He sees joining HELUKABEL as the best possible decision: "Anyone, like me, who comes from a corporation is impressed at how quickly decisions are made in a family company. I particularly value the team spirit here." Messerer is a qualified industrial manager and specialised market salesman.
atrás